Lez Girls iPod
Music
Playlist
at
MixPod.com
Current date/time is Fri Oct 07, 2022 6:03 pm
WELCOME!!
Imagine, if you will, our favorite "Lez Girls" of West Hollywood, Bette, Tina, Alice and Shane sitting around a table at The Planet…sipping on their Lattes and Chi Tea…talking about Love, Life..(Talking, laughing, loving, breathing, fighting, fu….well…you remember the song…) Lesbian, Bi, Tranny and their friends….oh and let's not forget Kit…straight as they come…sharing their lives. That is what we want to recreate here…a place to hang out, talk, share or just observe…without pressure, without judgment. Even if you never watched the L-Word (What?!?….Ridiculous!!) Everyone is welcome. We will have a little L-Word, then and now, a little of what entertains us, a little discussion of what is important to you…or me…a place to express ourselves and, hopefully, have just a little fun…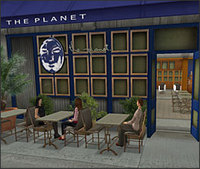 Pull up a chair...do you want "half caf" or an extra shot of Espresso?

Hello

Topics
Posts

Last Posts
Things That Make us Smile

Topics
Posts

Last Posts
Things on the side

Topics
Posts

Last Posts
Who is online?
In total there is 1 user online :: 0 Registered, 0 Hidden and 1 Guest
Most users ever online was 116 on Tue May 14, 2019 3:43 am

Registered Users: None


No users have a birthday today
No users are having a birthday in the upcoming 7 days

Legend : [ Administrator ][ Moderators ]
Statistics
Our users have posted a total of 1608 messages
We have 27 registered users
The newest registered user is Karina
New posts
No new posts
Forum is locked